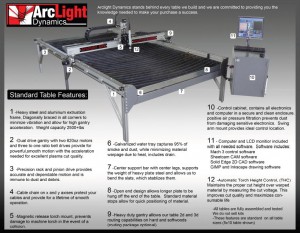 ALL NEW ADVANCED CONTROL SYSTEMS:
Ethernet based communications, for more reliable faster performance
New Torch Height Control, that delivers blazing fast response.
Arclight Dynamics manufactures professional grade CNC plasma tables that provide serious performance and dependability. Each of our machines is designed to be a fully functional system without the need for "additional options." What other manufacturers consider add-ons, we consider standard. From our industrial strength frame and filtered control cabinet, to our high performance torch height control and standard water table, our base price includes everything you need to start manufacturing high quality parts. At Arclight Dynamics, the price you see is the price you pay.

We want to provide all of the tools you need to put your table to work right away, and that's why every table we sell comes with a half day of training (4 hours offered at our facility). We also offer a library of comprehensive CNC video trainings as well as telephone support if you have any issues.

We only sell fully assembled and tested CNC plasma tables that are manufactured with pride in the USA. Our main goal is to get a working table to you as fast as possible and provide you with the knowledge necessary to get your table making you money. We ship all of our tables in direct semi trucks, so we load here and you unload it there. Arclight Dynamics also carries a full line of Hypertherm Powermax CNC plasma cutters as well as all of the options you need for a comprehensive system including: CNC Plate Markers, CNC Routers, Handheld Pendants, Pipe & Tube Cutters, Air Filtration Units and a Double Slat Option.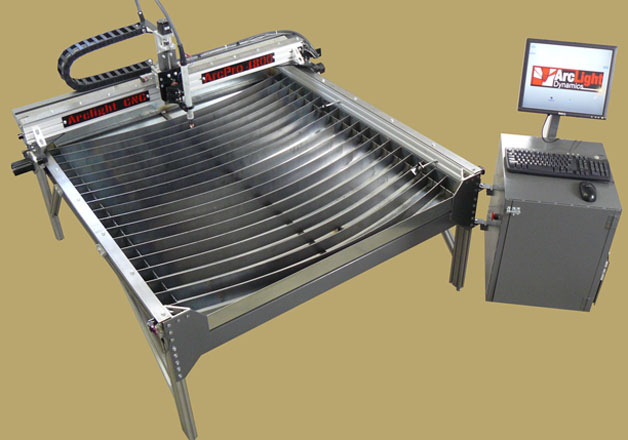 4'X4′ CNC PLASMA TABLE
– ARC PRO 4800
Automatic torch height control
Filtered control cabinet
Computer, software and LCD flat screen
Dual drive gantry w/ +3000 oz of torque
Precision Rack and Pinion drive system
Magnetic release torch holder
Industrial strength frame
Home switches on all axises
Bent slats with center support
Cable chain on all axises
Cut up to 4″ square tubing
2 Year warranty on all electronics
3 to 1 belt drive provides optimum torque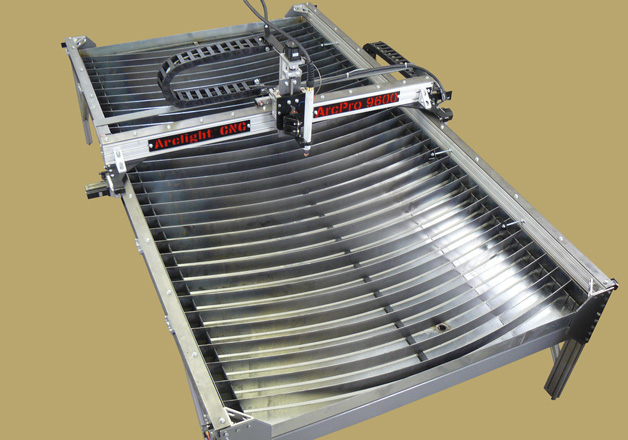 4'X8′ CNC PLASMA TABLE
– ARC PRO 9600
Automatic torch height control
Water pan (eliminates dust and smoke)
Filtered control cabinet
Computer, software and LCD flat screen
Dual drive gantry w/ +3000 oz of torque
Precision Rack and Pinion drive system
Magnetic release torch holder
Industrial strength frame
Home switches on all axises
Bent slats with center support
Cable chain on all axises
Cut up to 4″ square tubing
2 Year warranty on all electronics
3 to 1 belt drive provides optimum torque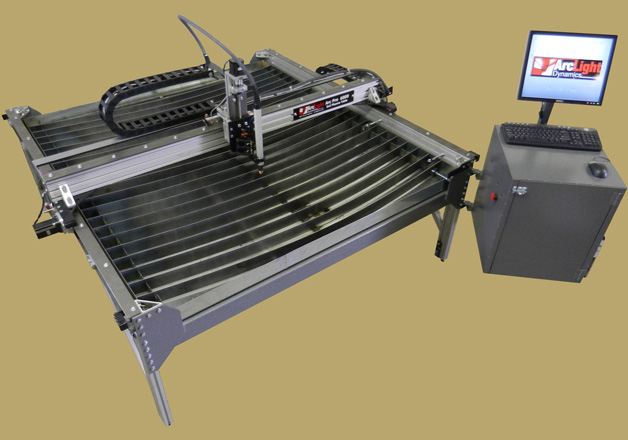 4'X8′ CNC PLASMA TABLE
– ARC PRO 9600
Automatic torch height control
Water pan (eliminates dust and smoke)
Filtered control cabinet
Computer, software and LCD flat screen
Dual drive gantry w/ +3000 oz of torque
Precision Rack and Pinion drive system
Magnetic release torch holder
Industrial strength frame
Home switches on all axises
Bent slats with center support
Cable chain on all axises
Cut up to 4″ square tubing
2 Year warranty on all electronics
3 to 1 belt drive provides optimum torque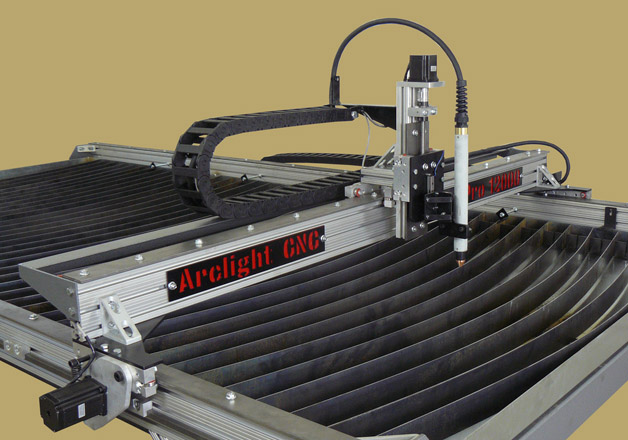 5'X10′ CNC PLASMA TABLE – ARC PRO 12000
Automatic torch height control
Water pan (eliminates dust and smoke)
Filtered control cabinet
Computer, software and LCD flat screen
Dual drive gantry w/ +3000 oz of torque
Precision Rack and Pinion drive system
Magnetic release torch holder
Industrial strength frame
Home switches on all axises
Bent slats with center support
Cable chain on all axises
Cut up to 4″ square tubing
2 Year warranty on all electronics
3 to 1 belt drive provides optimum torque