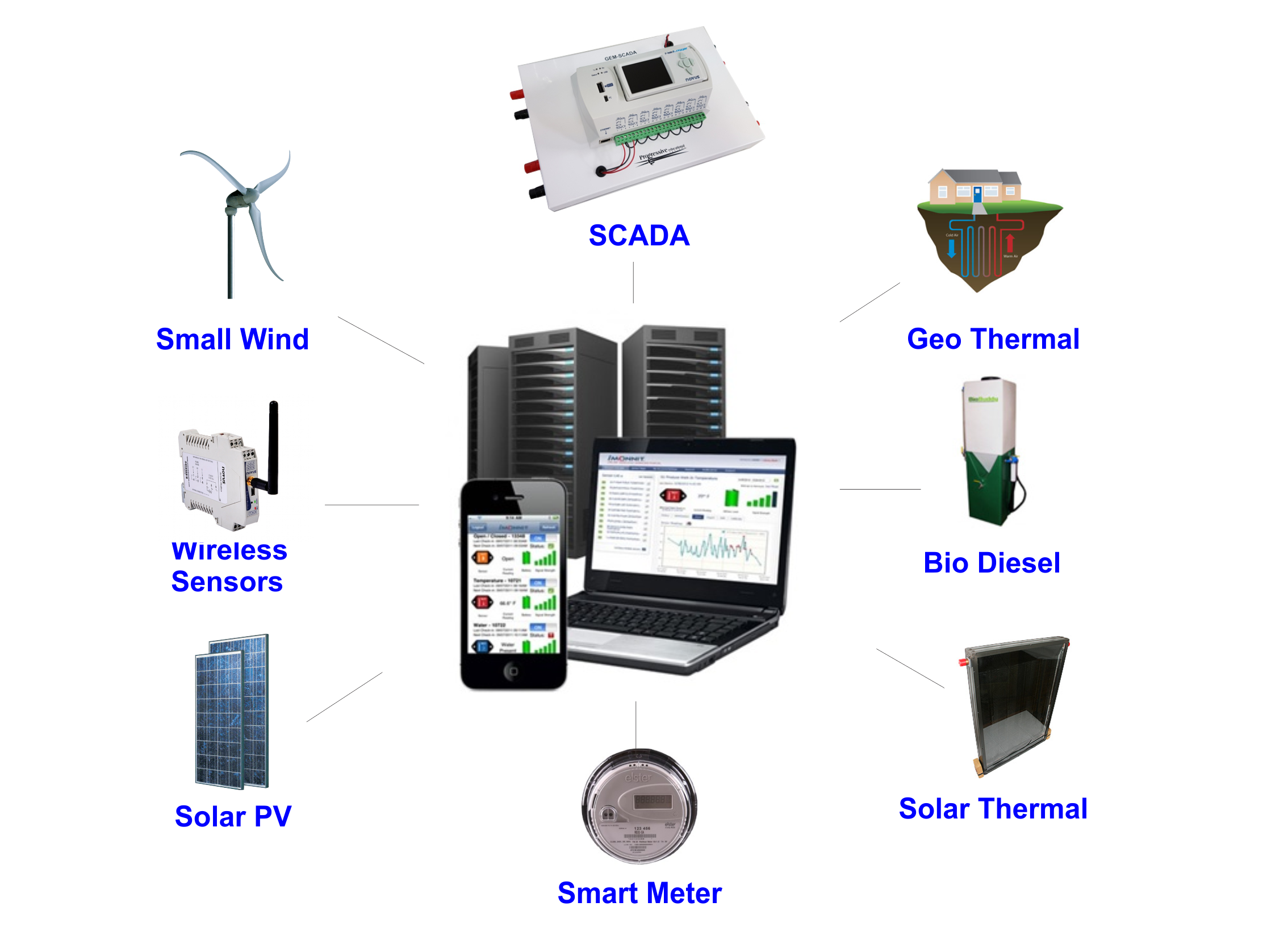 GreenEd Monitor (GEM) - SCADA and Data Acquisition
The Progressive Educational Systems GreenEd Computer monitoring system (GEM) is the first solution that not only monitors Progressive Educational Systems line of renewable energy training systems but other generation or process systems that need to be monitored from any computer.
The 07-7371 GEM-SCADA is a versatile, powerful data logger handling analog, digital and other types of variables with high resolution and speed. It is a high performance and high connectivity equipment and yet easy to configure and operate.
The 07-7371 GEM SCADA, can be used to monitor any Progressive Educational Systems renewable energy training system, or as a stand alone portable system to monitor any process system through a variety of optional sensors. GEM SCADA displays the data collected from the sensors on the HDMI panel or data can also be ported and observed through the Field Chart software.
It has 8 configurable analog inputs that can read thermocouples, Pt100, Pt1000, voltage and current signals. It also has 2 relay outputs and 8 digital ports individually configurable as inputs or outputs.
GEM-SCADA has one USB interface to be connected to a computer (for configuration, monitoring and data download) and another USB port for plugging a flash driver for data retrieval. The 512k logging basic memory is used to store data and it can be greatly expanded with an SD card.
An exclusive color HMI can be attached or remotely installed for local indication or configuration. A user-friendly configurator software can be accessed by Ethernet, USB or RS485 and also provides means for on-line monitoring, logged data downloading and exporting to spread sheets and other formats.
GEMxpress

The 07-7372 GEMxpress Data Acquisition provides a simple wireless USB Receiver and Express software to track and record up to 20 Wireless Sensors. The system allows for complete configuration and customization at a sensor, local network or client wide level. The software allows for management of sensor data as well as the ability to setup alerts via SMS text or email to one or many recipients. It is also accessible from all internet enabled devices including Smart Phones. The software also allows for enhanced functionality of your wireless sensors and includes an advanced software features set.
GreenEd Monitor (GEM) Cloud Based Monitoring