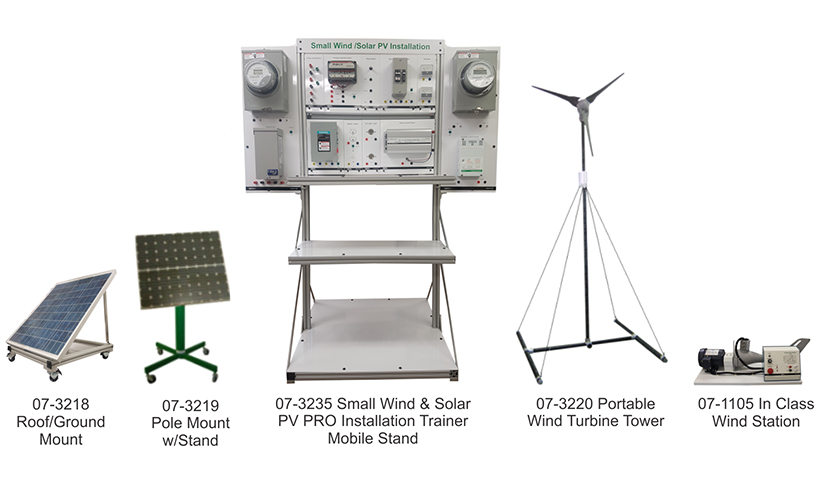 Small Wind and Solar PV Installation PRO
The Small Wind and Solar PV Installation PRO Training system from Progressive Educational Systems provides the skills necessary to install and test small wind and solar PV installations. This program has been approved by the Electronics Technician Association (ETA) and meets the requirements for the North American Board of Certified Energy Practitioners (NABCEP) exam.
This training system includes everything required to function as a "turn-key" learning station; lesson plan, student guide, bench top or mobile stand, modular component panels, analysis tools, instrumentation, energy producing equipment and in class mounts. The module provides student instruction for up to 75 hours.
The Lesson Plan includes an Instructor's Guide which provides instructions for installing, setting up, and implementing the module. It also includes learning outcomes, testing and evaluation procedures, answer keys, student skills response, inventory list and print CD.
The Student Activity manual guides students through 46 multi-disciplinary activities using the tools, and equipment included with the module package. It also contains daily activity response sheets and activity notes.
Trainer Configurations
07-3235-01 Small Wind and Solar PV Installation - Desktop Stand
Curriculum
The curriculum for these training systems has been written to meet the objectives of the Electronics Technician Association (ETA) outcomes for the Small Wind installation program as well as the Solar PV installation program. By competing the Progressive Educational Systems small wind or solar PV course and writing the ETA exam, students will be certified to install in the respective area. ETA is recognized in North America and around the world.
Small Wind and Solar PV Installation PRO