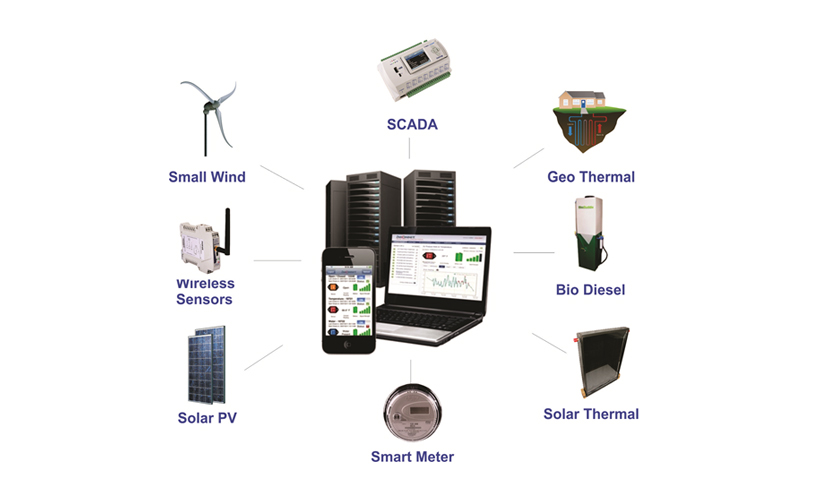 GreenEd Monitor (GEM) Cloud Based Monitoring
The Progressive Educational Systems GreenEdTM Computer monitoring system (GEM) is the first Cloud based online monitor that not only monitors Progressive Educational Systems line of renewable energy training systems but other systems that need to be monitored from any computer around the world! The GEM monitor provides a school branded URL to monitor the voltages and currents produced by the training system as well as a number of other optional inputs like wind speed, temperature, solar radiance, even a video camera!
The Progressive Educational Systems GreenEdTM Monitor (GEM) can be used to monitor any of our renewable energy training system including:
07-1100 Wind and Solar Energy Trainers
07-3234 Small Wind and Solar PV Installation Trainers
07-3264 Grid Tie Training System
07-3274 Geothermal Training System
07-3284 Solar Thermal and PV Training System
07-2100 Bio Diesel Energy Module
The GEM monitor can also be used to monitor: Any Progressive Educational Systems component board Any existing school wind or solar energy equipment Any local renewable energy installation (with permission) As a Virtual Site monitoring a Progressive Educational Systems installation
Key Features
Web based monitoring for your Progressive Educational Systems Renewable Energy system or other includes:
Renewable energy monitoring/recording of power in watts, current, voltage, kWh data for any time period
Data download to Excel file
Battery voltage including time remaining in hours, amp hours and watt hours.
Green House Gas(GHG) savings in pounds of Co2. 12 energy equivalents including, AA batteries, litres of gasoline, miles driven and computer hours.
Cost savings, reduction in cost you have diverted from your annual electricity bill
Alarms thresholds can be set to trigger an alarm.
Messaging, recieve daily performance reports and alarm notifications
School Branded Site
This hosted monitoring service allows viewing of your system performance on any computer that is connected to the internet. You can book mark the URL for access whenever you want or even set it as your home page. Data is stored on Progressive Educational Systems servers. No software is installed on your computers. No IT assistance required.
The monitored site is branded to the particular school with school logo, local solar and wind atlas sites and local weather information. Depending on the school access level (Middle, High School or Post Secondary) other modifications and customizations can be accomplished by the instructor or site facilitor. The Progressive Educational Systems online monitoring system can be used to monitor a single/multiple trainers or multiple existing sites.
Configuration
Data processed in real time and communicated via the internet to Progressive Educational Systems Servers.
Sensors
Voltage, current, environmental - temperature, pressure, humidity, wind speed, solar radiance. Smart meters, inverters, web cam, control.
Delivery
GEM delivers your systems information in a compelling, interesting but cost effective manner. With expectations for simplicity, depth and timeliness combined with entertaining multi-media GEM is ahead of the new norm.
Presentations
With GEM you can build highly automated, multi-media presentation templates that draw on live data and resources designed for a variety of classroom uses. Personalized presentations can even be pushed to recipients when desired or played on demand. Real time data is updated automatically, even during a presentation.
GreenEd Monitor (GEM) Cloud Based Monitoring