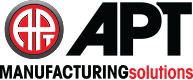 Company Overview
APT Manufacturing Solutions has been providing high-tech solutions to manufacturing problems for our customers since 1996. Founded initially in a 2500 square foot facility as machining and machine building, APT is now manufacturing in a 75,000 square foot facility with state-of-the art equipment, technology, and people. Our operations are ISO 9001 certified, as well as RIA Safety Certified for Robotic Integration. We are an authorized FANUC robotic integrator and certified at the highest level (IV).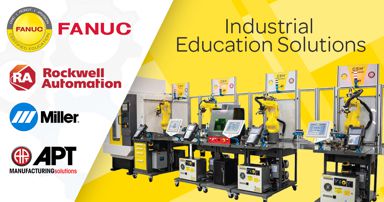 APT Manufacturing Solutions Products
One of our largest competitive advantages is the ability to control so much of the manufacturing operation under one roof. For example, parts that need machined and welded, or laser cut and machined, are all manufactured in-house. When designing and building equipment, we have robust teams with high-technical experience in: mechanical engineering, electrical engineering, software programming, panel building, machining, welding, assembly, installation, and service. It's very unique to find a partner who can help you solve complex manufacturing problems without sourcing any piece of the project.
Get Educational Brochure here
Product Categories
Industrial Education Solutions
CNC
Mechatronics
Welding