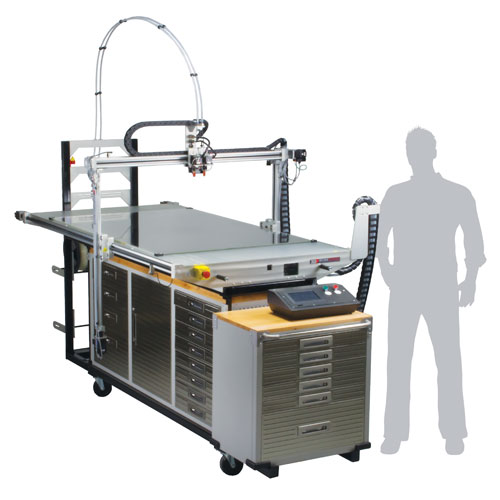 400 Series Workbench Xtreme
For customized, full-scale printing capabilities that accelerate time from ideation to application at an affordable price, the WorkSeries 400 (Workbench Xtreme) is the only large scale 3D printer that has been engineered from the ground-up. Most importantly, the unique, parametric design can be easily adjusted to match the needs of our customers.
Our 300 Series WorkbenchPro is a Fused Filament Fabrication (FFF) additive manufacturing system with a large 1 m x 1 m x 0.7 m build area. Therefore, its industrial strength mechatronics deliver superior performance and reliability. Further, with SIMO Series actuators and Constant Force™ anti-backlash lead screws and nuts, the WorkbenchPro provides a rugged, industrial framework that won't let you down. Additionally, the 3DP WorkbenchPro large scale 3D printer delivers 40% more build volume and up to 16x faster print rates with its unique features.
200 Series Workbench Classic
Print larger parts at faster rates with the 200 Series Workbench Classic large scale 3D printer. Overall, this classic printer features auto-mesh bed leveling, SurePrint Step-Servo hybrid motors, and duel electronics with remote operating and monitoring capabilities.
The 100 Series WorkTable large scale 3D printer features the same build area size and mechanical features as the Workbench Classic. It is designed for smaller businesses, schools, and entry-level designers looking to implement large-format, industrial strength 3D printing into their projects.
Prototyping, Production, Research and more
3D Platform provides full-scale printing capabilities. No need to scale down or print multiple parts that require assembly. Cut time-to-market with rapid design iteration.
Key Advantages:
Diverse open market material selections enable 90% savings versus proprietary materials
Superior fast print speed of 70-100 mm/sec enabled by SurePrint™ Servo Technology
Print up to 6 times faster with larger nozzle sizes
Full Size Rim - Material Cost $100.00
The large build area enables users to mass-produce end-use parts. Print fully functional parts quickly with multiple nozzle diameter options, and cost effectively with open market materials.
Key Advantages:
Advanced capabilities:
– Embed inserts: fasteners, electronics, sensors, etc.
– Core modeling


Open market software allows for core modeling —creating different process zones within a printed object—optimizing strength and weight
T3D Platform enables users to print full-scale objects that are customized to fit their needs.
Custom 3D printed objects are commonly derived from 3D scans and are often applied in the medical, fashion, education, and entertainment industries.
Key Advantages:
Diverse open market materials enable printing when unique physical properties are desired
– Flexible
– Pliable
– Strong and rigid
– Conductive
– And others


Advanced capabilities
– Integration of inserted objects; such as fasteners, electronics, sensors, etc.
– Core modeling optimizes strength, weight, and print times