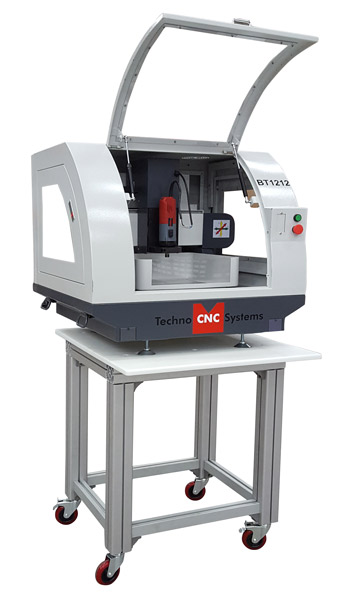 Benchtop CNC Router
Techno CNC Systems is proud to introduce the BT1212 Benchtop, an affordable precision CNC router for industry and educational institutes. The BT1212 is powered by a brushless micro stepper motor control system. It is operated with an easy to use hand held controller and is compatible with industry standard G and M codes. Options available are full safety enclosure, extrusion stand, casters, clamps, router bits, coolant system, and a 4th axis rotary table.
FEATURES:
Precision Ball Screws on all three axes
800 Watt (1 HP) Kress variable speed spindle 8,000-24,000 RPM
Brushless micro stepper motor control system
Aluminum t-slot table
Compatible with G code and M code
Cast metal base construction
Easy to use hand held controller
Includes: 1/8, 1/4 collets and wrenches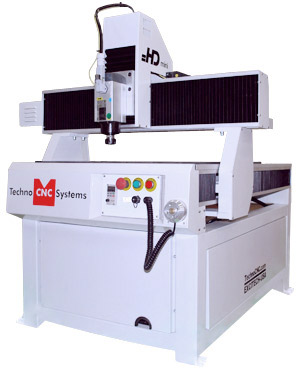 HD Mini CNC Router
The HD Mini is a heavy-duty machine that is an affordable CNC work platform. Ideal for any size shop requiring a compact machine to run small routing jobs or to be used as an educational tool. These CNC router applications can include musical instruments, sign works, artistic carvings, and drilling, using wood, plastic, fiberglass, metal or other routable materials being able to fit on the 2′ x 3′ cutting table size.

The HD Mini features ball screw drives on all three axes and is controlled using a Techno easy-to-use hand-held micro stepper controller. The controller can run industry standard G and M codes. The moving gantry provides a stationary work surface and saves valuable floor space.
FEATURES:
23" x 35" Process area
2 HP HSD high frequency collet spindle
Aluminum T-slot table for easy part fixturing
Automatic tool calibration pad
Brushless micro stepper motors and controls
Linear rails and bearings
Precision ball screws on all three axes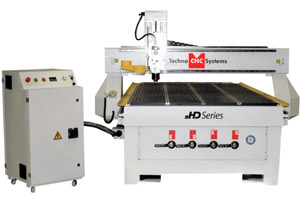 HD CNC Router
The HD CNC Router is a proven workhorse with features such as all steel construction, precision linear rails and bearings, helical rack and pinion on the X and Y, and a ball screw on the Z axis. The system includes brushless microstepper motors and controls with a very easy-to-use hand-held controller. The hand-held controller is so user-friendly that setup, installation and training is completed through our self-taught, step-by-step manuals. We guarantee you will be cutting parts the same day you connect power to the machine! In addition, because it is a moving gantry style machine, it saves on valuable floor space in your shop.
NEW CNC Plasma Cutter Features
Quality cutting starts from the ground up and that is why the Techno CNC Plasma Series is engineered for optimal performance. Our highly trained staff of engineers use state of the art software that provides mathematical testing of designs, called Finite Element Analysis (FEA). It allows them to analyze load characteristics of the machines components ultimately determining whether material improvements are required to build a better machine or if deductions/different building strategies can be taken to reduce the cost without sacrificing quality. We at Techno go the extra mile to provide a complete system of strength and power while reducing costs. The end result is money saved in our customers pockets.
FEATURES:
2' x 2', 4' x 4', 4' x 8' & 5' x 10' stock sizes
Easy to use hand held controller
Unique design, easy to learn and operate
Brushless micro stepper motors
Precision Helical Rack-n-Pinion on X and Y axes with ballscrew on the Z axis
Plasma table: Steel V-grid down draft
Welded steel frame construction for rigidity and accuracy
Cuts up to 1" thick steel capacity
High-speed cutting up to 800 IPM
Compatible with standard G-Code files
Multiple torch options are available.