Certified Education Robot Training (CERT)
FANUC America now offers Certified Education Robot Training to qualifying High Schools, Community Colleges, and Universities. With FANUC America's educational robots, students can learn to utilize the latest automation technology while applying Science, Technology, Engineering, and Math. Industrial robotics training in the classroom can safely be achieved through the CERT program. FANUC America provides the necessary training to the instructor as well as a curriculum to introduce students to robot applications including: integrated vision systems (iRVision), programming a logic controller, and using ROBOGUIDE simulation software.
To accompany the CERT program, an eligible school can purchase a new innovative educational tooling package. With this package, students will utilize the same robots and software that are used in industry including integrated vision systems (iRVision), programming a logic controller, and the use of ROBOGUIDE simulation software. Schools can use the new package to integrate robot training into their programs and initiatives. Some of the successful approaches used by educational institutions are:
Integration of robotic automation to teach design and manufacturing concepts
Creation of new courses and project-based activities to prepare students to work with robotic automation
Add robotic automation facilitated learning to Career Technical Education programs
Integrate CERT program with career cluster curriculum
Apply industrial robot training to engineering technology curriculum
Add CERT program to community workforce retraining initiatives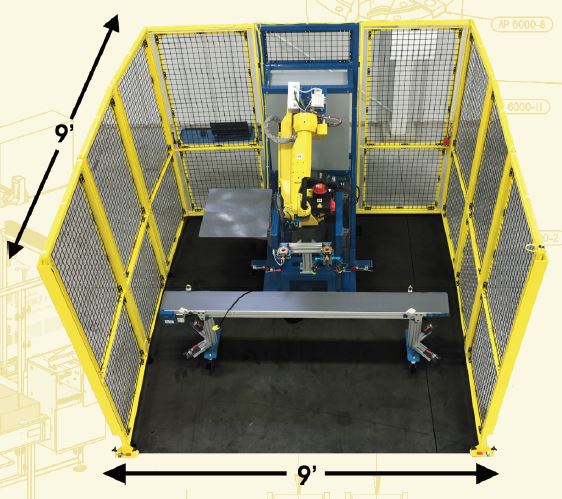 Introducing, the AM-CERT, a FANUC CERT Cell specifically built for Advanced Manufacturing
FANUC America has partnered with one of their industrial integrators to bring education the first collapsible fully integrated advanced automation cell. The AM Cert is the next level of training once the student has grasped the concepts of handling tool operation, vision and DCS that is offered through the fenced, fenceless or Cobot CERT solutions from FANUC. Buy as is or customize to suite your particular requirements!
The Advanced Automation work cell includes:
Level II and III Training
FANUC
• M10 or M20 Robot - 6 axis
• 2 Jaw Gripper EOAT
• 2 Cup Vacuum EOAT
• iRVision 20
• Aux Axis
• Line Tracking

• Automatic Tool Change
• Mobile with Pallet Jack
• Conveyor 9"x96" option
Rockwell-Allen Bradley
• Area Scanner
• Light Curtain
• Door Interlock
• Panel View plus 1000 hmi
Watch the video
Certified Educational CNC Training
FANUC America has created a new FANUC CNC Education Certification Training program focusing on making sure that students that qualify have learned suitable skills from a FANUC certified instructor, teaching a FANUC approved curriculum, and using genuine FANUC CNC equipment. For a basic CNC G-code class, NCGuide Academic Packages may be sufficient, but for hands-on lathe and machining center courses, more than 50% of their shop work must be completed using machines with a FANUC CNC.
FANUC CNC Simulator
The FANUC CNC simulator is a perfect addition to the classroom and an essential component to gain maximum exposure to FANUC CNC controls when actual machine time is limited. Based on the FANUC 0iF platform, the simulator will allow you at power on to switch between milling and turning configurations to teach programming, navigation and operation on the world's most popular CNC control. Simple configurations make it easy to learn how to operate and edit data on a modern FANUC control. FANUC's MGi conversational interface allows user to graphically generate programs that can be simulated in 3D, prior to being converted back to conventional NC programs to be used on machine tools using FANUC controls. Uploading and downloading (read and punch) functions are facilitated by means of the standard Flash ATA interface and USB interface, and DNC functions are supported by Ethernet and Flash ATA card.
Call or email for more information
FANUC ROBODRILL
As the leading CNC manufacturer in the industry with the largest installed base, students are most likely going to be using a FANUC CNC when they enter the workforce. So, it only makes sense that they are taught on FANUC CNCs in school. As a result, FANUC is engaging with the educational community to assist them in providing the best possible training to ensure that the students have the skills required by industry.
Call or email for more information