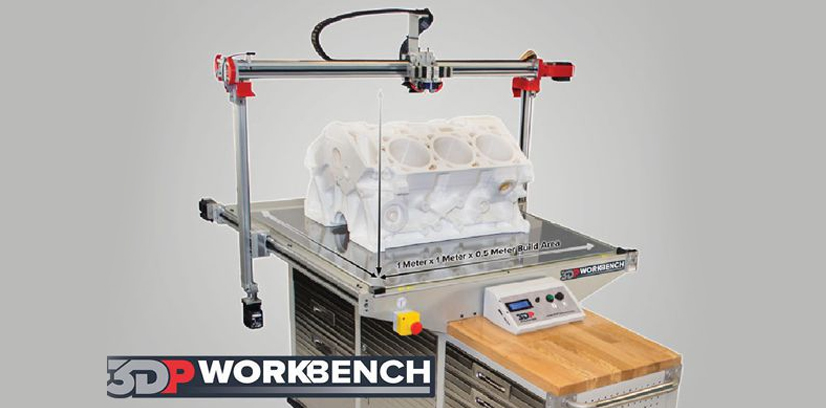 3D Platform
3D Platform Workbench
meter x 1 meter x 0.5 meter build area
Folding gantry fits through a standard door
SurePrint™ Servo Technology motors
Dual extruder all-metal print heads
High-volume nozzles, temperatures up to 295°C
Suited for 3 mm (recommended) and 1.75 mm diameter filament
Print with materials such as PLA, PETG, NinjaFlex®, ABS, Nylon, T-Glase, HIPS, PVA, and more!
AC Input: 220v, 13.6 Amp, 60 Hz
$27,000 US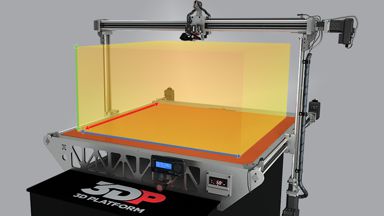 Really BIG Parts!
Fused Filament Fabrication (FFF) type 3D printer with large 1 m x 1 m x 0.5 m build area
74X larger build area than the standard desktop 3D printer
Expanded built-in storage drawers and cabinets for useful additive manufacturing tools and materials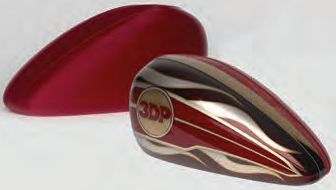 Economical
Capitalize on the open market advantage, low purchase price, and operating costs
Up to 90% savings using open market materials and software Case Study
Study based upon the printing of one gas tank demo per week for fifty weeks = 50 tanks per year.
Open Market Advantage: $468 material per tank = $23,400 material per year. Proprietary System: $4,680 material per tank = $234,000 material per year.
Accurate
NEW SurePrint™ Servo Technology delivers superior print quality and cuts print time in half
Closed-loop control provides positional feedback every 1.25 microns
Print layer resolutions down to 70 microns
Robust
Industrial strength mechatronics delivers superior performance and reliability
SIMO® Series actuators and Constant Force™ anti-backlash lead screws and nuts provide rugged, industrial framework
Prototyping, Production, Research and more
3D Platform provides full-scale printing capabilities. No need to scale down or print multiple parts that require assembly. Cut time-to-market with rapid design iteration.
Key Advantages:
Diverse open market material selections enable 90% savings versus proprietary materials
Superior fast print speed of 70-100 mm/sec enabled by SurePrint™ Servo Technology
Print up to 6 times faster with larger nozzle sizes
Full Size Rim - Material Cost $100.00
The large build area enables users to mass-produce end-use parts. Print fully functional parts quickly with multiple nozzle diameter options, and cost effectively with open market materials.
Key Advantages:
Advanced capabilities:
– Embed inserts: fasteners, electronics, sensors, etc.
– Core modeling


Open market software allows for core modeling —creating different process zones within a printed object—optimizing strength and weight
T3D Platform enables users to print full-scale objects that are customized to fit their needs.
Custom 3D printed objects are commonly derived from 3D scans and are often applied in the medical, fashion, education, and entertainment industries.
Key Advantages:
Diverse open market materials enable printing when unique physical properties are desired
– Flexible
– Pliable
– Strong and rigid
– Conductive
– And others


Advanced capabilities
– Integration of inserted objects; such as fasteners, electronics, sensors, etc.
– Core modeling optimizes strength, weight, and print times