View email in browser

November 2015

Home Training Systems Contact Us Request Information Our Suppliers

FANUC CNC Education Simulator Affordable and portable training solution on 'real' FANUC hardware

The FANUC CNC simulator is a perfect addition to the classroom and an essential component to gain maximum exposure to FANUC CNC controls when actual machine time is limited. Based on the FANUC 0iF platform, the simulator will allow you at power on to switch between milling and turning configurations to teach programming, navigation and operation on the world's most popular CNC control. Simple configurations make it easy to learn how to operate and edit data on a modern FANUC control. FANUC's MGi conversational interface allows user to graphically generate programs that can be simulated in 3D, prior to being converted back to conventional NC programs to be used on machine tools using FANUC controls. Uploading and downloading (read and punch) functions are facilitated by means of the standard Flash ATA interface and USB interface, and DNC functions are supported by Ethernet and Flash ATA card.
Certified Education Robot Training
FANUC now offers Certified Education Robot Training to qualifying High Schools, Community Colleges, and Universities. With FANUC America's educational robots, students can learn to utilize the latest automation technology while applying Science, Technology, Engineering, and Math. Industrial robotics training in the classroom can safely be achieved through the CERT program. FANUC provides the necessary training to the instructor as well as a curriculum to introduce students to robot applications including:

integrated vision systems (iRVision), programming a logic controller, and using ROBOGUIDE simulation software.

Certified Education Robot Training (CERT) Learn More

FANUC Authorized Satellite Training
Certified Education CNC Training
With the current trend of reshoring coupled with the ongoing problem of a shortage of skilled workers, the need to train future machinists is paramount to fill growing gaps in the domestic work force. FANUC has created a new FANUC CNC Education Certification Training program focusing on making sure that students graduate with the essential skills to be productive right out of the gate. Learn More
FANUC ROBODRILL CNC Machines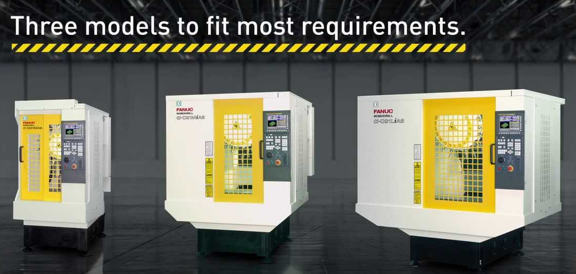 Check out our other partners:
This newsletter was sent to <<&emailaddress>> because you subscribed or are an existing customer.
To successfully receive our communication emails, please subscribe here. If you wish to cancel your subscription, you can unsubscribe here.
Copyright © 2015 Progressive Educational Systems Inc. All rights reserved.
Progressive Educational Systems Inc. | 50 Hanna Court | Belleville, ON K8P 5J2 | Canada | www.progressiveinc.ca